Our Story
Transforming the learning of each student every day.
Learning Without Limits
St Joseph's is proud to be part of Catholic Schools Parramatta Diocese's system of 80 Catholic primary and secondary schools operating across Western Sydney and the Blue Mountains providing more than 43,500 students with a high-quality, low fee Catholic education.
At St Joseph's we work with parents to ensure that every student achieves and learns to the very best of their ability. We focus on modelling kindness, helping others, standing up for what is right and making positive choices. Our school is helping children develop responsibility, sensitivity, and resourcefulness.
Our mission is to provide a safe, supportive and engaging environment which will support each child to reach their full potential: educationally, creatively, emotionally, and socially.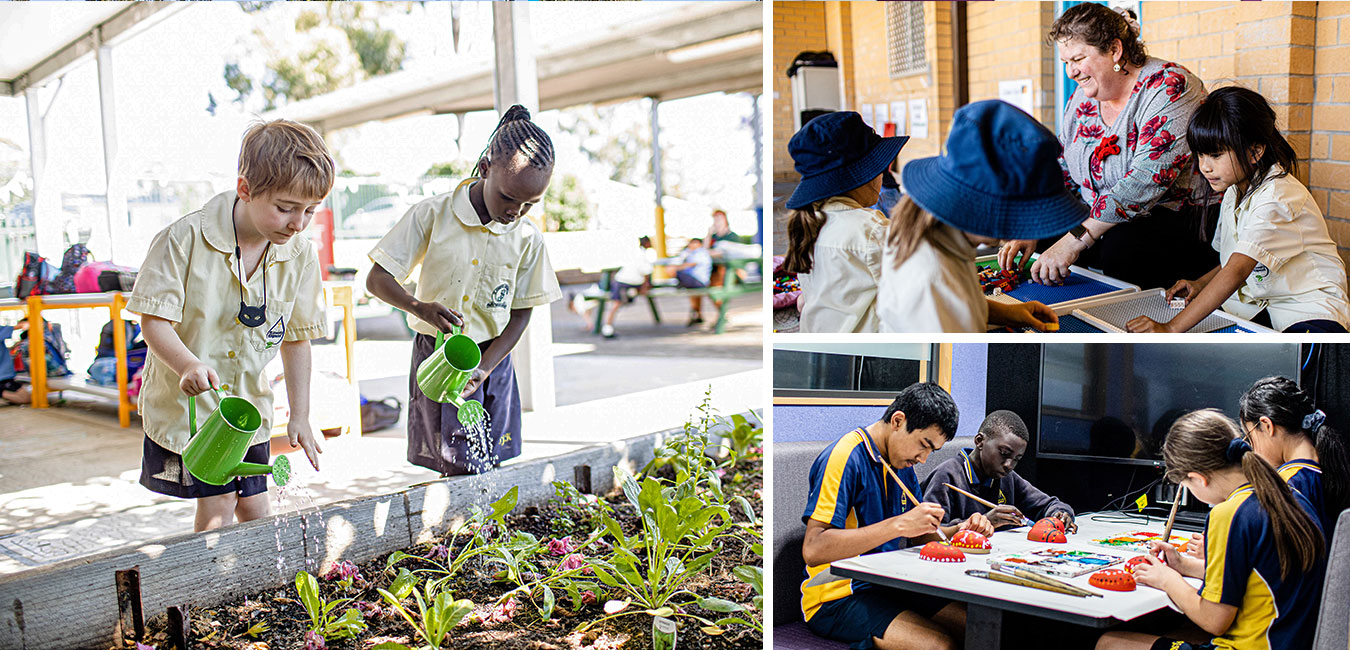 Testimonials
The school and its teaching staff have extended their full support in making our children feel safe and secure. Every year has been a great experience and every teacher has gone above and beyond.
Shona (Parent)
The teachers have a good way of explaining the learning. It's an amazing place to make friendships.
Cameron (Year 4 Student)
Our experience at st Joseph's primary over the years has been positive for our family. The teachers and staff have always been supportive, caring and approachable whenever needed.
Pauline (Parent)
Our History
St Joseph's Primary was founded in 1963 by the Sisters of St Joseph to serve as a second parish school for the Penrith area. The first Principal was Sister Fidelmia, and the school opened with 225 students from Kindergarten to Year 5.
The Kingswood community built a 'church/school' used for educating students during the week, and as a church on Sundays. The school was built through the support of the local community who worked hard to raise funds. Fetes, car rallies, working bees, fashion parades, cake stalls, walkathons, dances, 'Chicken and Champagne' nights, and progressive dinners were just some of the events held to support the growing school.
In 1970, St Joseph's Kingswood became a parish in its own right. Enrolments for the school were 269 students in Years K-4. Years 5 and 6 students went to either St Nicholas of Myra at Penrith or St Dominics.
Father Rosen, the newly appointed Parish Priest, recognised a need to upgrade the original classrooms, so began to work with the Catholic building and Finance Commission to make improvements for the benefit of the students.
In 1972, four new classrooms were built to enable the school to accommodate Years 5 and 6. At this stage St Joseph's had an enrolment of 314.
The beginning of 1973 saw the opening of 10 new demountable classrooms, a staffroom and a school office. Total enrolments increased to 385.
In 1976, St Joseph's was provided an additional grant for further additions to the school, to accommodate an enrolment of 400 students. In 1978, a three-roomed brick Kindergarten with toilets was constructed. By 1980, the student population was 652 students, and a new 5th and 6th grade building became the newest addition.
The Sisters of St Joseph continued to administer and teach in the school until 1981. In 1982 the first lay Principal was appointed. Over the years, demountable buildings housed the classes, allowing the original school space to serve as a church throughout the week as well as Sundays. Permanent buildings increasingly replaced demountables, and today the only remaining demountable building houses the Out of School Hours Care (OOSHC) facility.
St Joseph's Primary continues to upgrade its facilities to ensure students are provided with the optimal environment for learning, having recently undertaken major refurbishments of all learning spaces.
Today our school has a reputation for delivering innovative, modern learning with a firm foundation in our Catholic faith. We are a school where there is learning without limits.
St Joseph's Primary has a number of policies and procedures that govern various aspects of our school life.
Providing parents, carers and the wider community with information about various aspects of school performance and development.
We invite you to join our vibrant learning community
Contact us today to find out how to enrol.