At St Joseph's Primary, we have cultivated a community who genuinely care for one another and the safety and happiness of our students is of the utmost importance to us.
We have high expectations of behaviour and promote a culture of respect and collaboration. Our students love coming to school and feel safe and motivated to learn. Our student wellbeing policies and practices are integrated in everything we do to ensure that we are meeting the personal, social and academic needs of all students and staff.
---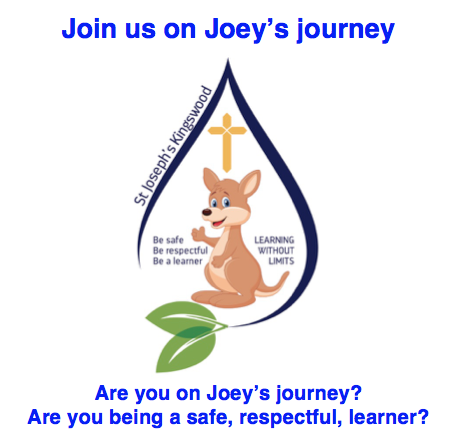 Positive Behaviour Support for Learning (PBS4L)
We use the PBS4L framework to ensure our students are safe, respectful learners. As a school community we live out these key principles and embed them in everything we do on the playground and in the classroom. Together students take part in activities that aim to:
empower each student to support each other and contribute positively to the school community
develop students' understanding of what it means to be safe, respectful and a learner
build a sense of school community
Positive behaviours are celebrated. At assembly each fortnight, students are recognised for their achievements with Merit Awards. Once each term Joey awards are presented to students who are safe, respectful learners. Each classroom has a positive reward system which also recognises students who are displaying safe, respectful and learner behaviours.
---
Pied Piper Club
This is run during Lunch 2 for students who are finding it difficult coping with the demands of the playground. A teacher works with the student and their friend to develop skills to play cooperatively, take turns and make new friends.
---
School Counsellor
The School Counsellor at St Joseph's plays a key role in all areas of school life, working with:
staff to ensure that the ideals of our pastoral care policy is being implemented effectively
class groups requiring additional support to be safe, respectful learners
individual students who require explicit support
parents through phone calls and meetings with teachers
---
Kindergarten Transition
To assist with the transition period for Kindergarten students, each child is assigned a Year 6 buddy during their Orientation to school. The Year 6 buddies read stories and complete craft activities during Buddy Time and are also a point of contact and support for the Kinder students in the playground. The buddy system is a positive model in that it allows the Year 6 students to assume responsibility for a younger child, while at the same time giving the Kinder child an older role model.
---
Learning Support
We recognise that students learn at their own pace and provide the support required for each student. St Joseph's supports all students by embedding additional teachers within each learning space. This ensures that the teacher to student ratio is low with an average of 16 students in each class group. This enables all students to receive additional support and be given more opportunities to engage actively in their learning.
We also work with the Jarara Indigenous Education unit to provide support for indigenous students, to ensure that the Aboriginal perspective is embedded in units of work, and to share and celebrate the culture of all students through story, art and music.
Literacy support is provided through two programs - Reading Recovery, an early literacy intervention that provides one-to-one teaching for children who need greater assistance in learning to read and write following their first year of school; and R3 Reframing Readers Resourcefully a daily, 45 minutes intervention for at-risk Stage 3 students. Due to the low numbers of students in each class, students requiring additional literacy support read and write with the teacher at least 3 or 4 times per week.
Numeracy support is through Extending Mathematical Understanding (EMU) which involves small groups of students working with a trained EMU specialist teacher for 30 minutes a day, 5 days a week, for between 10 and 20 weeks (25 - 50 hours), to accelerate their mathematical understanding.
St Joseph's Primary is committed to keeping our students safe at school and we adhere to the National Catholic Safeguarding Standards and support the National Principles for Child Safe Organisations. A range of checks and undertakings are required for people who work for or provide services to the school. These checks reduce potential risk and form part of the Catholic Education Diocese of Parramatta (CEDP) strategy to build child safe communities.
---
We provide a safe, nurturing and supportive environment for all students
Talk to St Joseph's TODAY about your child's learning