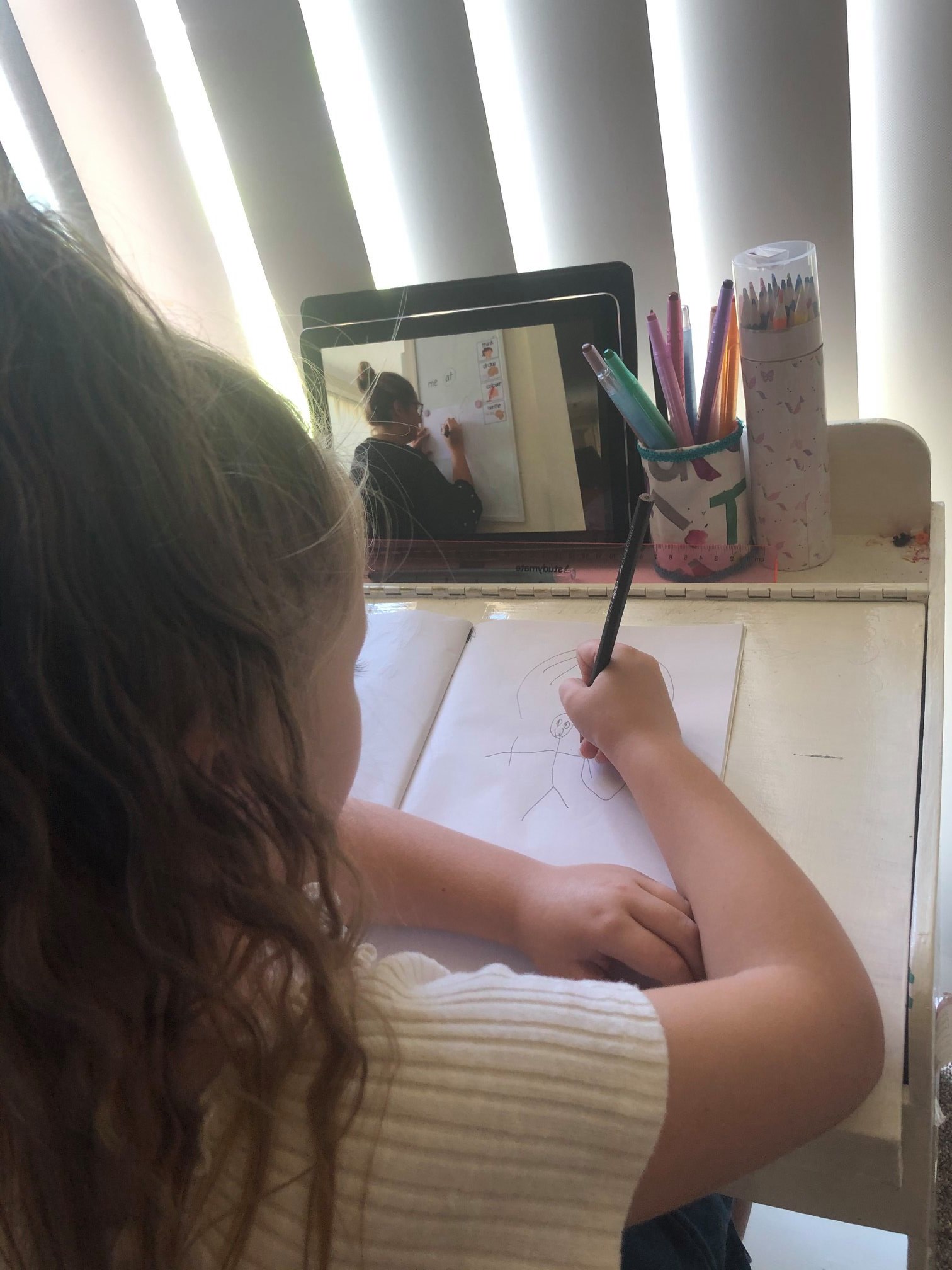 St Joseph's Primary Kingswood Kindy teacher, Rosie Smith delivers her writing lesson online whilst Kandice responds
As COVID-19 has brought upon us a new way of living and learning, St Joseph's Primary Kingswood has redesigned its classroom into a virtual one which brings teachers and students together at home.
Principal Trish Reilly said her staff have been brilliant in adapting to these changing times in learning. "They are very flexible and have been very supportive of each other, utilising their different talents to help each other out,'' Mrs Reilly said.
"We have been very focused on also helping parents adapt to the change in the learning environment and are aware technology is not accessible for everyone at home in our school community. What we have tried to do is provide a Google Chromebook to those families in need,'' Mrs Reilly said.
This initiative has also been met with the challenge of making sure every family has access to Google classroom. Assistant Principal, Rochelle Borg said many families are online now and for those who aren't, hard copy materials and access to reading books are available.
"Some of the other challenges we have encountered include families using old devices with limited access, English as a second language, parents working from home who also now have to support their kids with their learning schedules, and families having a number of kids trying to use one device at the same time to access their learning,'' Mrs Borg said.
As a result of feedback from parents and teachers, St Joseph's will be adjusting their learning schedule to allow parents flexibility in supporting their children with their learning while also trying to continue their work and everyday activities from home.
"We have redesigned our online learning platform, focusing on delivering explicit teaching activities at the beginning of each day, rather than posting multiple lessons throughout the day. This will provide students and parents with clear learning expectations and the flexibility to successfully complete their activities throughout the day,'' Mrs Reilly said.
A key focus at St Joseph's is to provide quality online learning opportunities for all students. This will be supported with instructional videos highlighting the focus and learning intention for each activity, which will include teachers modeling via the virtual classroom exactly what the task is and learning objectives for the subject. "These instructional videos will be delivered to all students through Google classroom and will focus on continuing to develop our student's knowledge and skills in literacy, numeracy and religious education everyday,'' Mrs Borg said.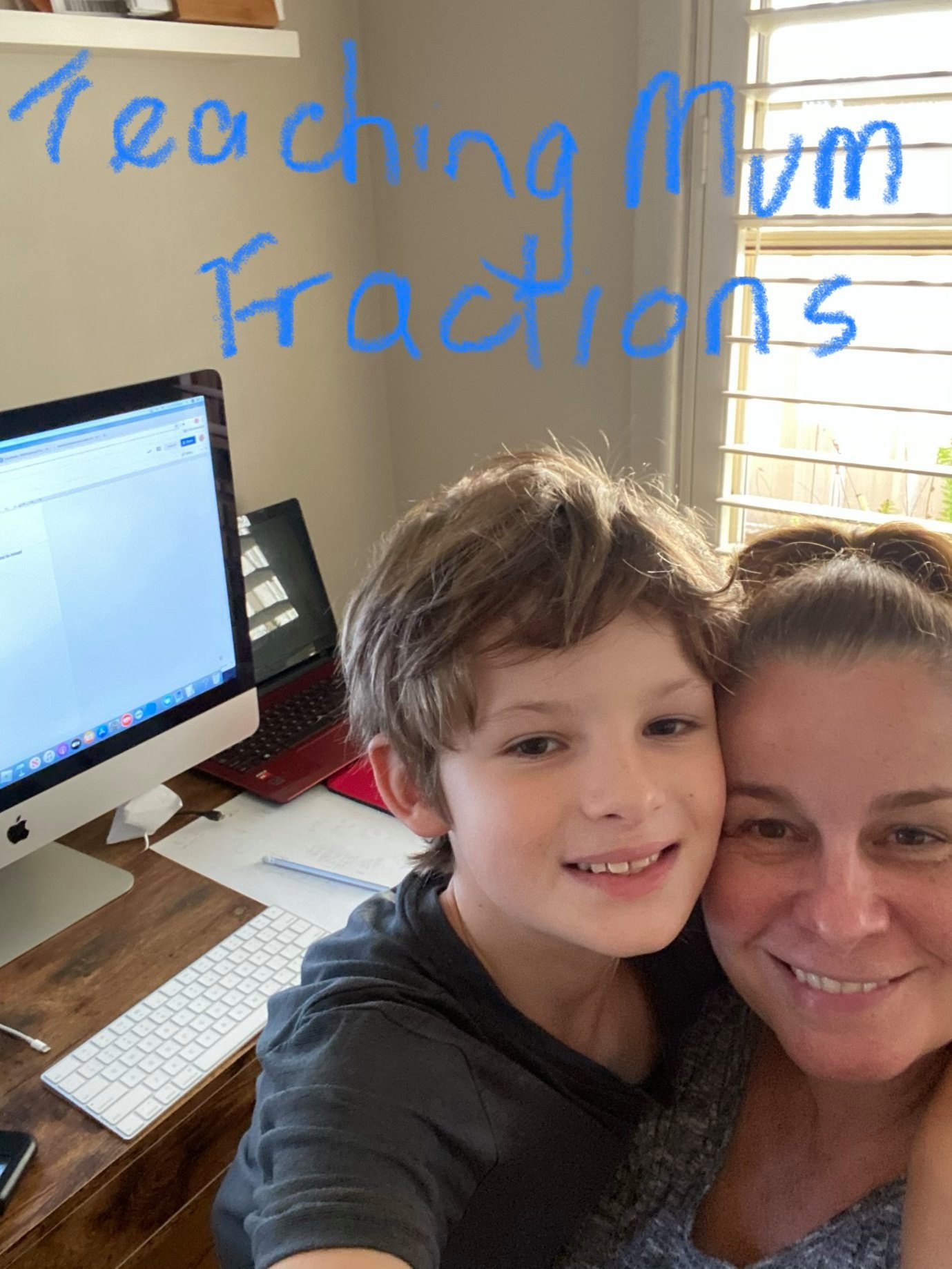 Zac and his mum learn fractions together
"Our aim is to provide our students with a learning structure that focuses on delivering quality learning opportunities, whilst allowing flexibility. In conjunction with our explicit online learning, students are also provided with a range of engaging learning activities in the areas of Science, History, Geography and Health. Many of these tasks are designed as independent research or project based activities, allowing students and parents increased flexibility with how these activities are completed," Mrs Borg said.
However, student wellbeing has not been left out of the equation, with the school very focused on checking in with their close knit community. One way this has been achieved is via a simple video greeting shared with students through Facebook and Google classroom before they start their day of online learning. Throughout the normal school day, teachers are not only delivering online lessons, they are online via Google classroom, answering questions and providing feedback to students.
"In Term 2, teachers will also be conducting zoom meetings with small groups of children, with the focus of allowing us to check in with them and their learning and to provide students with the opportunity to have face to face time with each other,'' Mrs Borg said.
The school's Positive Behaviour Support for Learning framework has not been forgotten either with parents now implementing the Home Joey reward system for students who follow their parents instructions and promote the expectations of being a good online learner.
"We have had a lot of positive feedback from parents and we want to reassure them that we are in this together. Strong communication is very important and we are constantly updating and connecting with our community through our school's Facebook page, Skoolbag app and phone calls to families.'' Mrs Reilly said.
As we are well and truly in the holiday period Mrs Reilly and Mrs Borg have some important tips to share to keep families well rested and motivated for Term 2, which include:
Take a break, it has been a very different start to the year which can be exhausting in itself, so it is good to take some time out and re energise for Term 2.
Keep Reading, make reading time fun. St Joseph's has shared some great resources such as Story Box, Sunshine Reading Online Program and the Scholastic website via Facebook and Skoolbag to make reading time at home engaging.
Update your new learning space at home, as the move to home learning happened fairly quickly last term, some learning spaces weren't set up the way people wanted. Take some time to decorate and prepare your space the way you like.

Sienna, Olivia and their little sister, Zoe enjoying online learning